On and Off the Needles
To begin with, the comments.
Shandy
, the winter here is relatively cold, I suppose. A lot of the time it hovers around the freezing point, but it can occasionally go down to what I would call minus 20. I'm completely out of it when it comes to winter temperatures, having grown up with Fahrenheit then switched to Celsius when I was in grade school and had just finished learning about temperatures. Then moved back to Fahrenheit just when middle age set in and the brain will not adjust. It is about the same as Toronto here but quite balmy in comparison to Ottawa or Montreal. We do get a lot of snow (100 inches or so on average per season) but it freezes and thaws and doesn't pile up the way it does farther north. I think that 25% wool will do just fine. I love recovering and re-using yarn too. It's very satisfying. Thanks again!
Marjorie
, I feel for you on the subject of deer but there's nothing to be done about it. It's not even worth crying about. Just pick your plants from a
list like this one
. There are so many people at my work who moan about deer, or too much shade or too much sun. I include myself in this number. What we keep coming back to is that the art seems to be to pick plants that suit the conditions you are faced with. Do so, and your garden will be brilliant. 
On Saturday, when the temperature was about 90 F (35 C?), well, it FELT like 100 in the shade, I went on the Rochester Civic Garden Center's
summer tour.
 Spent about 2 speechless hours in Jerry Kral's garden. It's hard to speak about this garden without sounding like a blithering idiot. If you get a chance to go, don't hesitate. I loved this sculpture in particular: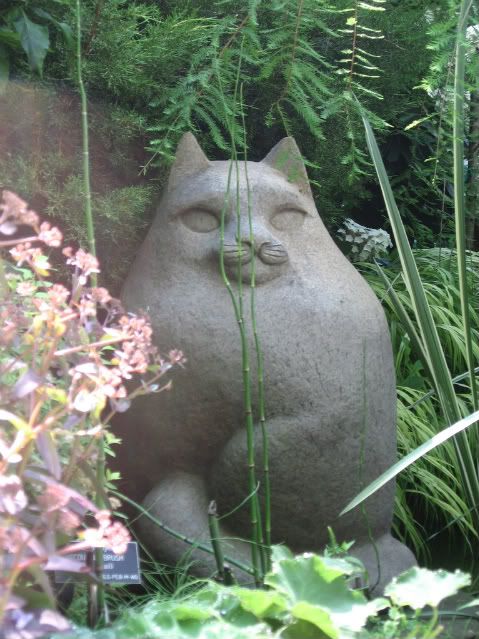 In all, we trailed around gardens for 6 hours. All of them were wonderful. I wish I had taken more pictures. Rochester is a city of old frame houses. Some were torn down in the 60's and 70's to make way for raised highways and the like, but because we're in the
Rust Belt
 there are many old houses of all sizes, including tiny apartment sized houses as well as large Victorian beauties. Had there been a boom here, the little ones would all have been torn down and replaced. 
At the end of the day, we found ourselves steps away from the
Fitch Building!
While the others went to peer into the garden of the Zen Center, I nipped over and took this shot of the building that housed the Knitting Bureau, replete with fire engine. It's right across the from the old Sibley building at East and Alexander and down the street from the Quality on East Avenue. I couldn't tell what, if anything, was going on in there now. I'd like to go back again, preferably not alone, and take a closer look.
Last, but not least, I have two f.o.'s to report, the February Lady cardigan and a Cobweb Crepe, modified. I love them both. Details for the hard core knitters can be found on
Ravelry.
 Big Swatch is back on the go, so stay tuned for an update on that project.