All over the place
I have a new set of wips.
1. The Pine Tree Palatine scarf is creeping along on lace addis. I decided to do it in two colours for the usual reason - not enough yarn in one colour. I've gotten two teeth done in the body of the scarf, thus: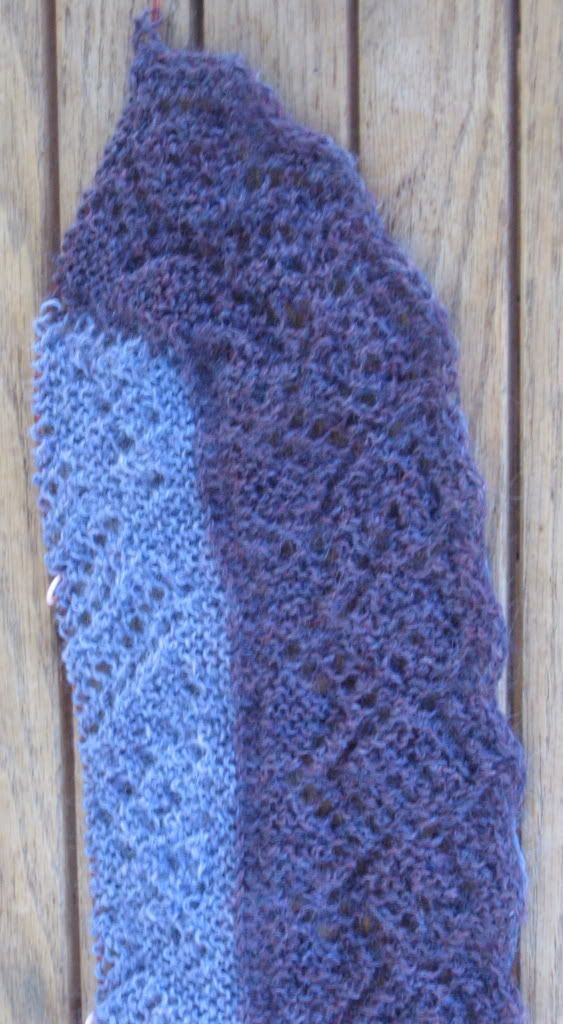 2. My short lived romance with the triangle shaped
Heartland Lace Shaw
l is over. Not that it isn't a beautiful shawl! It is. I'm using Berroco Ultra Alpaca Fine and I'm up to 215 atitches which is the number where you would normally start the border if you were using the yarn the pattern calls for - a somewhat heavier yarn. The alpaca is quite fine and I will have to slog on for a while before this will make even a suitably sized winter scarf. It's the kind of pattern you have to do with a clear mind, preferably early in the day. The the regular addis (2.75 mm) are very slippery. In short, I'm giving this project a tiny rest.
3. The
Side to Side Pullover
. Only guilt will lead me to finish this dull piece of knitting, hopefully soon.
4. Norah Gaughan is putting up a pattern called Wedgette on her Ravelry group in honour of an anniversary. It might be in honour of the anniversary of the group, I can't remember, but you can read about it
here
. Always a sucker for the unkown, I immediately cast on with some earth coloured
RYC Cashsoft
DK from my stash and 4 mm needles. I seem to be getting the correct gauge for now. Here's how it looks for starters. The initial instructions have been posted on Ravelry and on Nora's blog.