Rochester Knitting Guild: First Night
Tonight was the first night of 08/09 season of the Rochester Knitting Guild. Fantastic turnout as usual. The room was packed and a big room it is too. We have over 300 members and there must have been a good 150 there tonight. We had a good show and tell with people showing off the results of their summer knitting. There was a skein exchange (put a skein of yarn from your stash on the stage, take a number and wait until your number is drawn and select a skein from the pile). It was fun, even at the end when the pickings were very slim indeed. I donated my second skein of Sockotta sock yarn (good yarn - just not my colour) and took away a heavily petted skein of dark brown mohair. News flash - no one likes fun fur anymore - leave it at home, please next time!
Sue Sayre brought several knitting sheaths she had got a carpenter to make and some of us tried them out. He's going to be at the
Hemlock Fiber Festival
later this month and will bring some of them with him. That's all I know abut that, except that Wendy Caffee is still looking for a few volunteers to staff the gate or various desks. Volunteers get in free so let her know if you're still interested.
Oh, and there were 80 pairs of mittens brought in by local knitters for the mitten drive. Wow! Jeannine is carefully watching the mail for the arrival of
Shandy's mittens from England
.  We're very excited about receiving them. I think that just the idea that they're coming is really inspiring some people to knit more mittens. 
Here are the details on what I was showing off tonight - the recently finished Heartland Lace Shawl: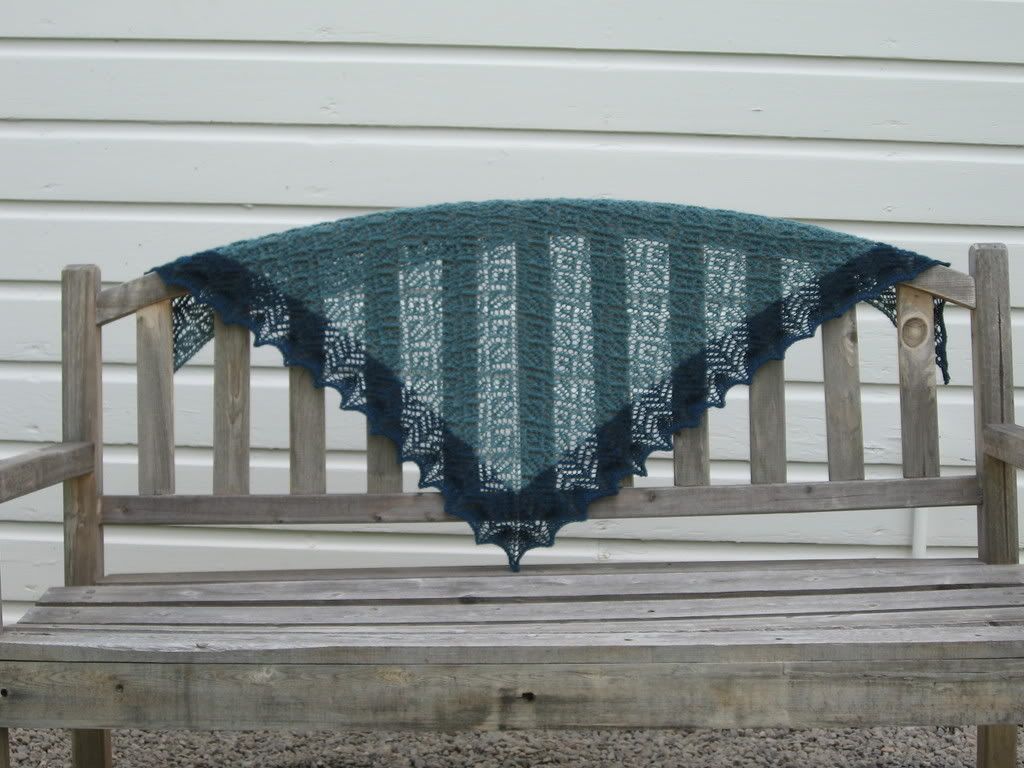 Needle: 2.75 mm/ 2 US
I used about 1 and a quarter skeins
I did 6 repeats of the Bison Tracks pattern, then switched to the darker colour for the border.
My aim was a shawl that can be used as a scarf, under or over a coat.  When I was up in Ottawa I read in the Globe and Mail that we're all supposed to be wearing our scarves babushka style. How can that be?! I imagine it should be sensibly worn over the shoulders like so: