Etc.
I thought that by now I would have posted more about my trip to Iceland. We had wonderful drives to
Þingvellir
and a night on
Vestmannaeyjar
. Alas, I must go to work each day and try to keep up life in general. I have not given up yet though so dont be surprised if another travel post appears here.
I'm grateful that we are finally getting a bit of rain in Rochester. The weather has been dry and quite cool. In fact, it has been so cool that we've had to pile on the knitting while lounging on the back porch: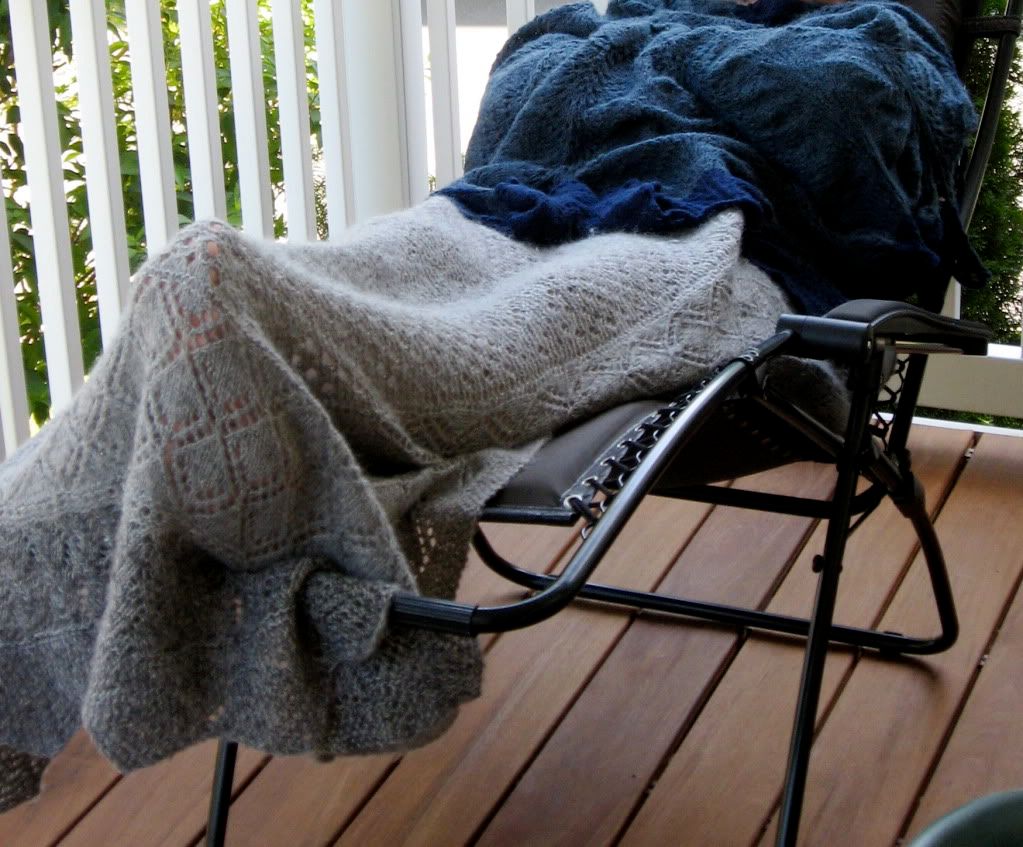 I've held off planting my tomatoes for another week, following the sage advice of the gardeners at last week's plant sale at Warner Castle. That's just the name - there is no castle. This is one plant sale I like to go to every year. I didn't buy much - some marigolds and a Lady's Mantle for a friend - but I enjoyed looking around and chatting with people.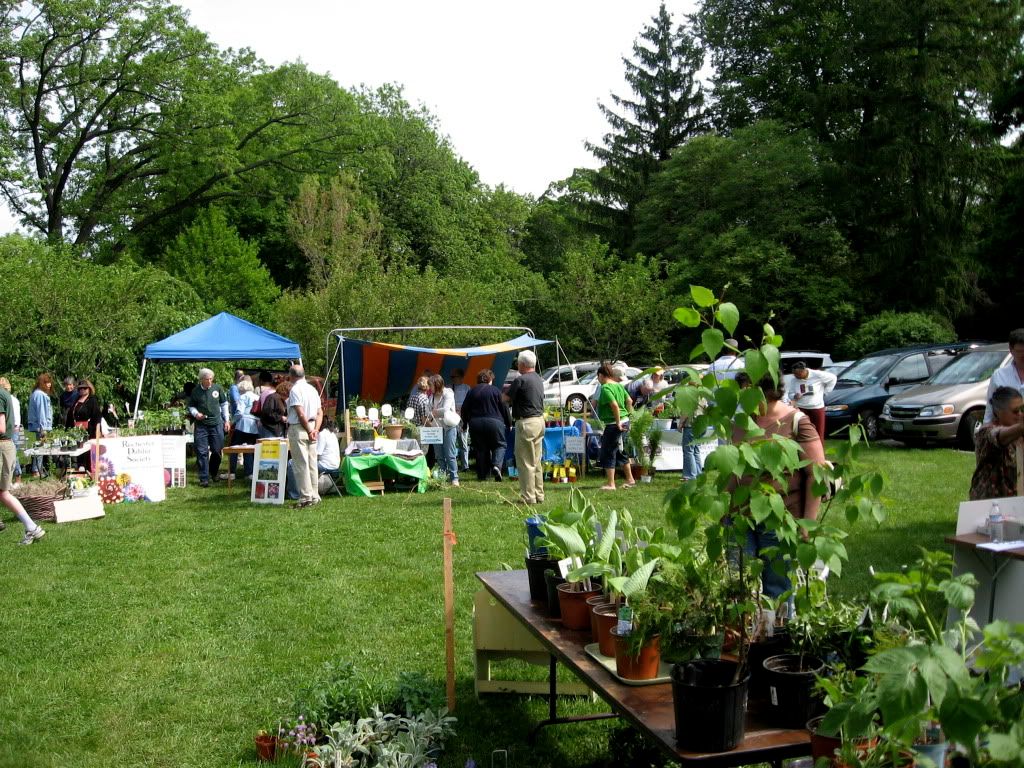 In Knitting
Toward the end of last week the endless repetition of the small tree motifs on the Mystery Einband became excruciating. The temptation to start yet another project was not helped by the arrival of two books -
Knitted Lace of Estonia
and
Stahman's Shawls and Scarves.
The only thing that kept me from straying too far was a request from a co-worker to knit a square for her baby son. She's trying to wean him from his pacifier and apparently at his day care they are given knitted squares to snuggle with at nap time. Problem is they have to leave them at the day care. Anyway, the project was small enough to give me some relief from the Einband, but not big enough to distract me permanently. Here it is - she can make it into a cushion cover if he doesn't take to it.
And here it is finished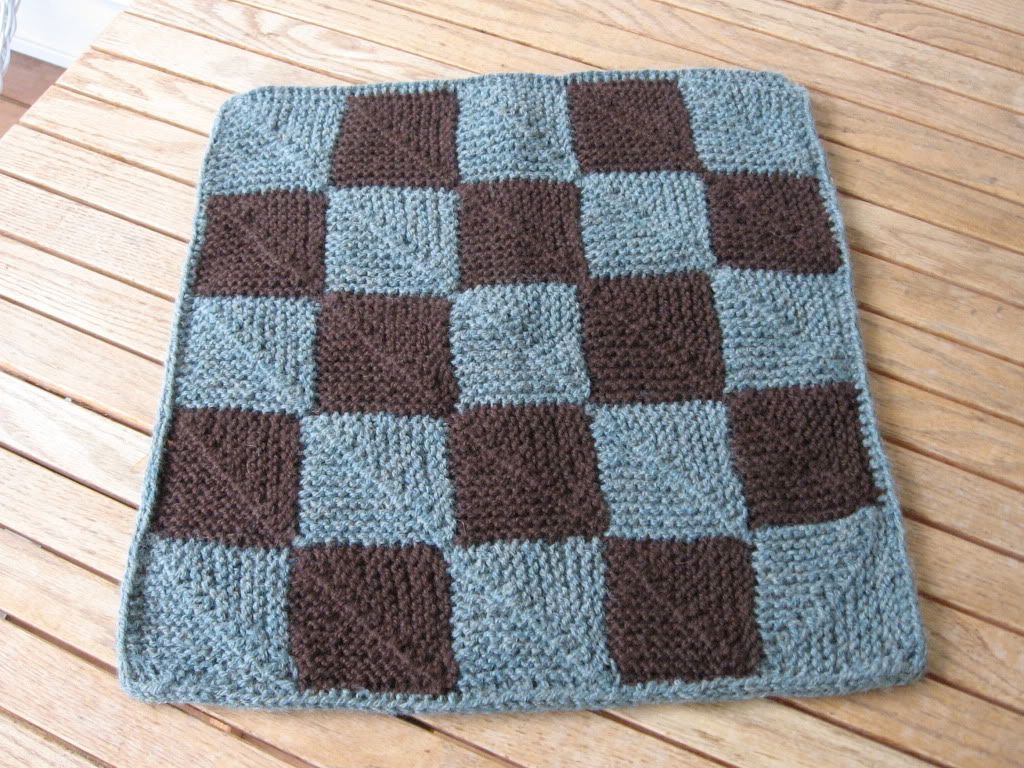 As for the Einband, I'm back at it. Since the last
photos
, I've gotten far enough along to change stitches for the centre of the stole. I transitioned with a few rows of knit stitch and a row of holes. I'm doing the centre in Trinity Stitch from Martha Waterman's book on lace shawls. Needless to say, this stitch will soon be driving me mad too. I wish I had the patience to plan my projects out rather than just picking up the needles and yarn and having at it. Then I could work more variety into the pattern.
I was also very lucky to win 3 skeins of very soft Misti Alpaca in a contest over on
Yarnerina's blog
. Nadia, I'll be making you a surprise with it.
Come to think of it, that's something I can do as a break from my two shawl projects (Einband and Pine Tree Palatine). I'm dying to start a project from the Estonian book and wouldn't it be great to knit a shawl with shoulder shaping (Stahman's)? Prime Time Knitter has a good picture of one of hers
in this post.
Fate and a sense of ecnomy intervened and prevented me from ordering the English trnslation of the Icelandic Þríhyrnur og Langsjöl (Three Cornered and Long Shawls) over at
School House Press.