Time is going by so quickly. I'm home for just one week before going to a conference and there's so much to do. A few too many things on the old to do list, ya know. 
Still. I do feel nice and relaxed after my vacation. I've started on my own pair of mohair/sock yarn socks and I'm on the second one of the pair. It's gotten cold here and I've gotten all my hand knit socks out to wear. They're not for everyone, but those of us who like to wear them, really like them. They are so cosy and comforting. 

Here I am using Red Heart Heart and Sole sock yarn, purchased at Michael's. It's very much like knitting with Regia.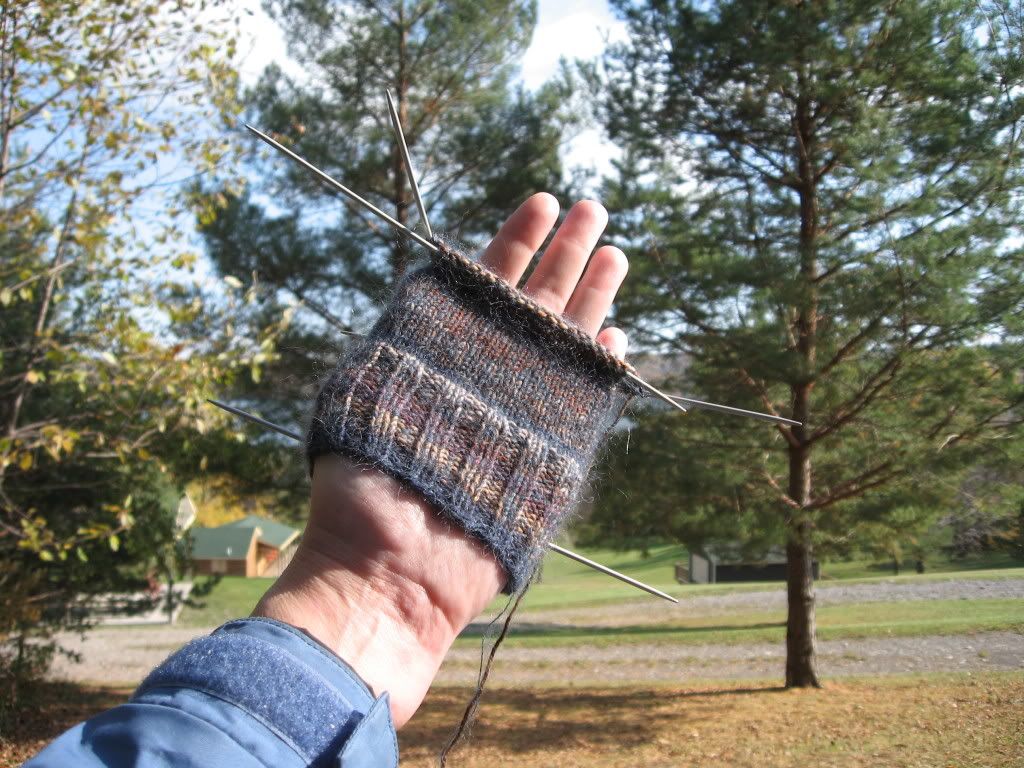 What did I knit while away? Well, not as much as I thought I would. I took the Pine Tree Palatine with me in my hand luggage, taking the needle out and putting it onto a piece of yarn instead. Waste of time. Didn't touch it. 
Aside from finishing Michael's After Golf Socks, I knitted the back of a
cabled cardigan
using Stylecraft
Freedom Spirit
, shade 506 (Air) and have now started on the fronts. It's more or less a light blue yarn. It's what I expect Lopi Lite would be like. It wouldn't pass Marian's strength test, but once it's knit up, it's seems very nice. I bought it at The Wool Shop in Alnwick -  a very nice shop. The pattern is one of those where they expect you to knit it exactly as they say, counting row by row, rather than telling the knitter, do so and so until the piece is such and such a length. I'm finding the row counting very difficult. It's going quickly though. After this, I should get back to the Wedgette, really. Then theoretically, I will have added two nice pieces to my wardrobe.
Must. Not. Get. Distracted.
The weather here is turning cold. We even had snow flurries today. There is much work to be done in the garden, cleaning up and getting ready for Spring. I may have lost the Dahlia roots. There were reportedly two hard frosts while I was away. Oh, it went by so quickly. I wish I had had time to get together with you, Helen, Anne and Jo. Where did the time go? Don't worry, I'll be back!
Here is a photo from our Sunday walk around the Quaker Pond trail at Mendon Ponds.