Big Baby in the Big Smoke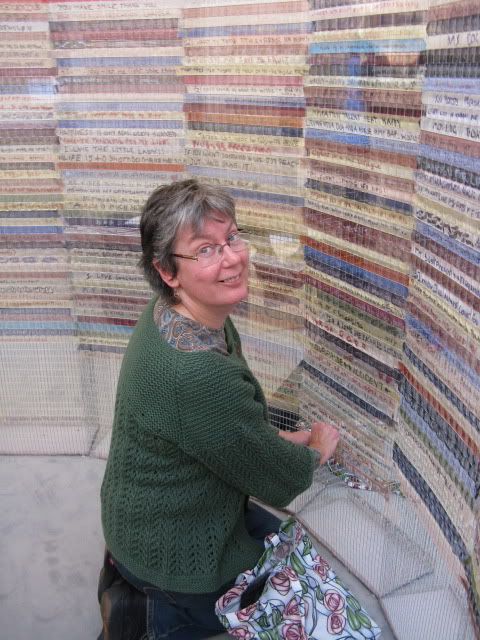 We're in England this week. Down in
the Big Smoke
for the craft show,
Origin
, me an' Big Baby. I was last here in 1991. Back then, when you washed your face after a day out, the water down the drain was black with grime from the air. London was famous for it's smog, but no longer. Makes me feel like Rip van Winkle (not unusual for me, I'm finding). I've been wearing Big Baby, my February Lady cardigan, every day and she's proving herself to be very adaptable indeed.
Anyway, we've been all around,
Big Baby
an' me, notably to the posh craft show Origin at Somerset House. Here we are at left, leaving our mark in the crafting space. Passers-by were invited to write a phrase on a pice of translucent ribbon and weave it into a 3.6 meter high wire frame.  I contributed "Stitch by Stitch," not very original, but I wanted to keep moving and take in the rest of the exhibits.
My sister Frances and I visited during week 2 (the exhibitors change each week) and made a beeline for the textile exhibitors. To be brief about what appealed to me: lace stitches knit up in fine yarns on a machine, left unblocked and then lightly felted. Picture the Fir Cone stitch. Never mind, just Google it. More later.