Brown, Brown and Brown
Here in Western New York, the Fall season has been very colourful. The reds and yellows have been brilliant.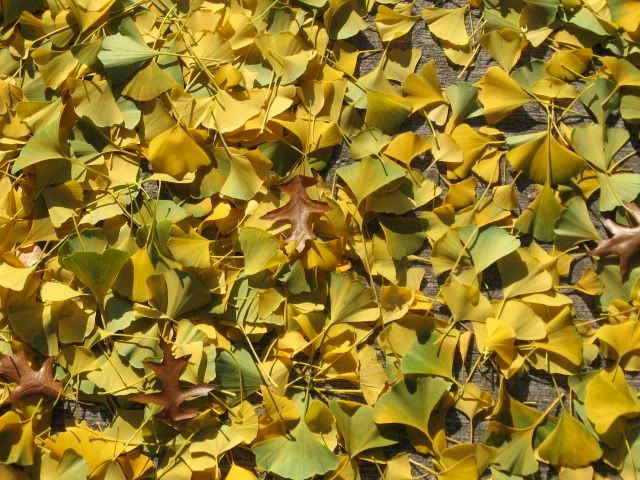 There has been lots of sun and warmth too. I was down in and around Naples, New York today and the temperature reached nearly 18 C/ 68 F. There was hardly a breath of wind on Lake Canandaigua this morning.
Despite all this loveliness and light, I find myself working on three brown projects.
First, and I just finished this one yesterday, is an Aestlight. I loved the first one I knit two weeks ago so much that I had to knit another. The yarn is Malabrigo Sock in a very chocolatey shade. These photos show the final edging being attached. I think I'll be wearing this a lot.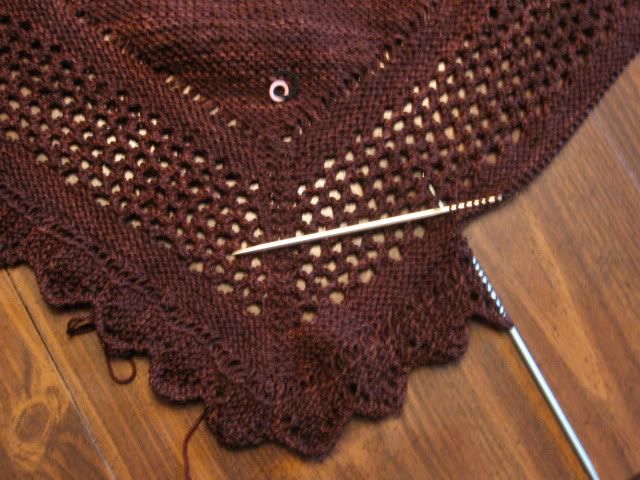 My second brown project is the Woolie Jacket that had my elbows aching on the plane ride from England. Here's the pattern picture. I'm a bit nervous about that pouffy part that you see sticking out from behind her elbow.
The biggest piece of knitting in this pattern is the back. You knit an extra 7 inches or so in the width to create a pleat. The fabric is very thick. Hmmmm. I feel that knitting this is a bit of an act of faith, however, it goes quickly because the yarn is so thick: 3.5 stitches per inch. Worst comes to worst, I'll just have to redo the back without the pleat. It's sale yarn from the Wool Shop in Alnwick. Here's how my knitted fabric looks:
Lastly, I am knitting a cosy vest for Auntie Margaret. I don't have a pattern. I started out trying to knit something similar to a garment we saw in a department store. It is getting farther and farther away from the original. I'm knitting with Rowan Purelife British Sheep Breeds DK undyed on 3.5 mm/5 US needles. The yarn is very soft and smells faintly like a sheep barn. I love it.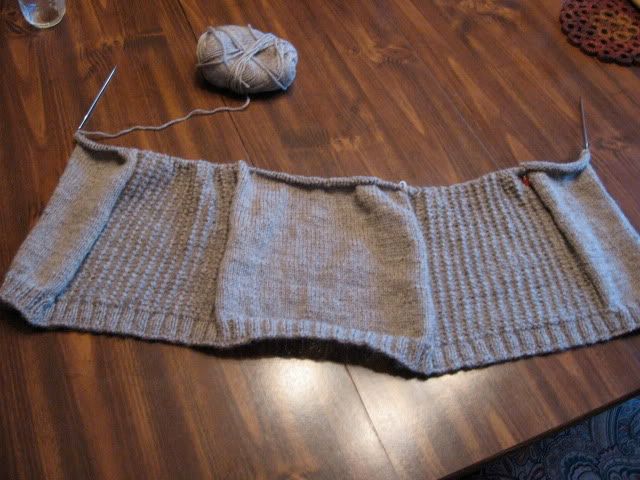 The vest will be divided into two sections. The bottom half is fairly plain: a combination of stocking stitch and a stitch from Barbara Walker called Shadow Rib. It's from her Second Treasury and appears among the first few stitches. The vertical pattern doesn't pull in the way a regular ribbing does. I'm hoping that it will add interest without drawing the eye too much. There will be more interest in the top half of the vest where I am planning to place some staggered cables.
PS. I am still living in my green Icelandic sweater. I wear it to work, to garden, for a walk. It feels great.