Some Icelandic Sheep, some Vegetables and a Pair of Socklets
Here are some Icelandic sheep which I saw in April. At that point, there were very few to be seen. We left just a few days before the annual release of the sheep from the barns. There were a few around, sticking close to home. I was told, however, that on a certain day, when the good weather comes, everyone lets out their sheep and they wander at will around the countryside. On an agreed upon date in the Fall, everyone chips in and helps round up the sheep from around the country. For helping, you may receive a sheep in return. If there are any Icelanders listening, am I correct? This is what I heard from a transplanted German. Anyway, this photo was taken from the car, somewhere south of
Þingvallavatn
. This is where the LOPI comes from!
I've been busy, but not knitting. I just finished three huge work related projects and I'm feeling good about that. It's beginning to feel like summer here in Western New York. Today I picked sour cherries at
Schutt's
. There's a good website for our area which you can use to
identify farms where you can pick various kinds of fruit and veg
yourself. I look forward to the sour cherries every year. They weren't advertising them as ripe today, but I looked through the trees anyway and found some that were ready. Sorry I don't have photos of the cherry trees. They are beautiful.

In our own garden, the most successful thing this year, besides the rhubarb, are the radishes. This is the first time I've ever planted radishes and I'm pleased that we've been able to start eating them after what seems less than a month since planted the seeds.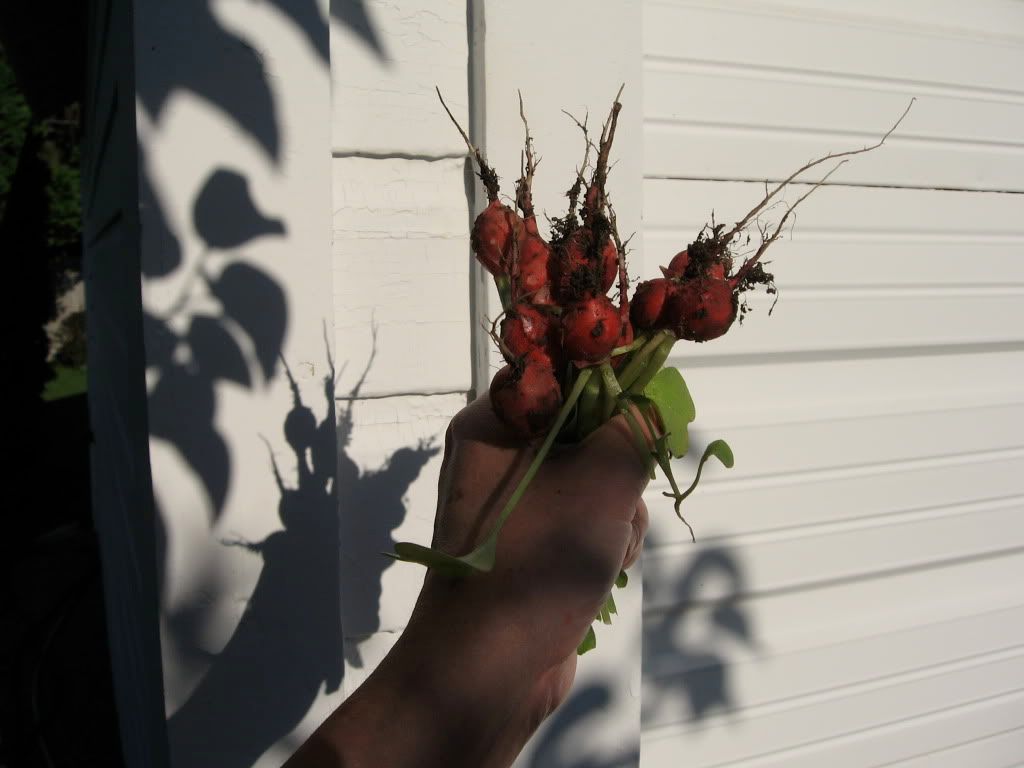 I wonder though - have I thinned them out enough?
Here's how the vegetable garden, er, patch looks overall. It's small, but it has room for everything we want: 1 large rhubarb plant, 8 tomato plants, 3 cucumber vines (they'll have to grow upwards on old tomato cages) , radishes, some strawberries and a few herbs.